5 examples of advertising campaigns with influencers
The main objective of an advertising campaign is to achieve a great impact and, if possible, to become viral. To achieve this, the brands try to find new and creative strategies that attract the attention of the user in order to achieve the desired notoriety.
If there is a type of strategy that has become popular in recent times are the campaigns with influencers. Among other factors, because nowadays social networks allow almost anyone to become popular or at least become known either through their accounts on YouTube, Instagram, Twitter or Facebook.
Thus, the concept of influencer has jumped from people famous for their profession, generally artists or athletes to digital influencers who have managed to amass a large community of followers who follow their recommendations.
According to a report elaborated by Augure on February 2014, 60% of marketing professionals admit to already investing large amounts of money in influencers' marketing.
This is because brands get some of the following advantages when associating with influencers:
Amplify your message. If someone is a true influencer, you will have a loyal community of followers who will be attentive to your recommendations. Campaigning with influencers can help your message reach users that would otherwise won't be able to hear about your brand.
Traffic. If you have chosen influencers well, the most logical thing is that a part of their followers is interested in your brand if the influencer is interested. And this will lead to an increase in traffic to your digital spaces. That is why it is important that you choose the influencers very carefully. If you are an engine brand, it is useless to associate yourself with a fashionable influencer, no matter how many thousands of followers he or she has.
Empathy with a community of users. The influencer fulfills the role of guide for the brand which will help users to get closer to the brand. For this, he or she must be an influencer with enough credibility in that community.
Increase of participation. Generally, the revitalization of marketing campaigns tends to have a greater participation if any influencer enters it.
Do you want to know some interesting campaigns based on the participation of influencers? We show you 5 campaigns with influencers from which you can learn:
1.- Spotify: #thatsongwhen
Spotify took great advantage of the great power of the influencers and showed it with #thatsongwhen. This campaign of influencers was launched as a tribute to music and the objective was both to increase subscribers and improve the image of their brand.
To do this, from Spotify all their users were encouraged to take part in the campaign through the hashtag #thatsongwhen, where users published and shared the songs that most influenced their lives.
To achieve a good result through this campaign, Spotify also had digital influencers such as Vincent Markus or AlliCattt, both undisputed stars of Vine where they have more than one million and more than three million subscribers, respectively.
In this way, instead of resorting to music stars, Spotify preferred to focus on real people and thus tell real stories. Its target audience focused on the millennials, who participated very actively in this campaign.
Spotify achieved the objectives that were proposed through this campaign. In all social networks, from Vine to Instagram, Twitter or Facebook the hashtag #thatsongwhen became viral in a very short time and expanded like wildfire.
The campaign had such resonance, that today there are people who still use the hashtag and continue to share all those songs that have marked their lives.
2.- PUMA: #IgniteXT
Nationwide, it is interesting to mention the advertising campaign made by the sportswear brand Puma in which they used several Spanish fashion influencers to promote the new line #IgniteXT. This campaign took place in 2015 and was one of the most successful campaigns in the country. In addition, more than 61 influencers participated in the campaign.
The brand wanted to give special visibility to the newly designed shoes and for that they used the help of Spanish fashion, lifestyle and sports bloggers, that have a large number of followers in social networks like Instagram.
Another of their goals with the campaign was that their brand got even more notoriety and presence in social networks, and they found the key since all these influencers recommended their shoes to all their followers.
For this, they had influencers like Nina Urgell, Marina Romero or Jessica Goicoechea to promote their new line, people who have very engaged profiles. In this way, they achieved their objectives. Instagram was the social network where they achieved greater success. But on profiles like Twitter they also registered great notoriety.
3.- Samsung: The most retweeted selfie in history
One of the best-known campaigns is undoubtedly the one that took place during the 2014 Oscars ceremony. At the ceremony, the popular television hostess Ellen DeGeneres made a selfie in which famous faces of Hollywood such as Brad Pitt, Meryl Streep or Julia Roberts took part of. The selfie was made using a Samsung Galaxy Note 3.
The television hostess used her account on Twitter to broadcast the snapshot that she took during the celebration of the most famous movie awards. The photograph soon became viral. In fact, in less than 40 minutes got more than a million retweets becoming the most retweeted selfie in history.
In this way, the photo broke all records and quickly became the most viral selfie in history. Samsung achieved its goal. Although the price paid by Samsung for the American hostess to publicize its product was very high, achieving the selfie with more RTs in history deserved it.
This image surpassed the most retweeted photo until the moment, which was an image that Obama uploaded to his Twitter account after winning the elections for the second time. In fact, the selfie of Hollywood celebrities managed to beat the record of the president of the United States in less than 30 minutes.
In this advertising campaign, Samsung knew that Ellen DeGeneres was the right person by being the hostess of the Oscars gala. However, this campaign with influencers also has its negative aspect from which can be learned. After the gala, De Generes continued posting on Twitter images of the parties that are usually celebrated. But she did it with her cell phone: an Iphone.
4.- Nike Court
The sports company Nike launched an advertising campaign in 2015 to launch a new clothing line, Nike Court and to celebrate the 20th anniversary of one of its most famous ads in history. That announcement in which Pete Sampras and André Agassi cut New York traffic to play a tennis match.
For this campaign, once again, they used the power of different influencers from the world of tennis. In fact, they managed to reunite many of the best tennis players in the world such as Rafael Nadal, Serena Williams, Roger Federer and Maria Sharapova.
The four players surprised all the users by recreating that announcement of 1995. The company created the hashtag #StealTheShow so that all the users had the possibility of following the great event live.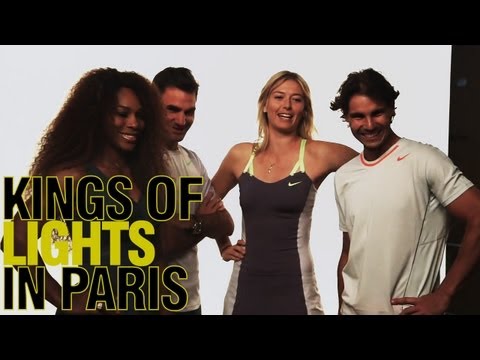 The campaign had a great impact, which was expected since Nike got the participation of the biggest influencers in the world of tennis that everyone admires. Also, this campaign incorporated a great emotional factor: they created nostalgia in some users recreating a game of tennis so mythical.
Therefore, Nike hit the nail on the head with this campaign of influencers and, in addition, having created a hashtag so that all users could follow the event live was another point in favor, as it provided a lot of diffusion and notoriety to the event.
5.- International Delight: Cold Stone Creamery Flavors
One of the areas where campaigns with influencers have proved to be particularly effective is the gastronomic sector. One of the most interesting examples is the International Deligth company to promote its new line of flavors called Cold Stone Creamery Flavors.
To get the campaign to work, the company selected several gastronomy bloggers to share different tips and recipes using International Delight products.
One of the most popular influencers who achieved great success through her tips and recipes was the blogger behind "Will cook for smiles." Among other data, she achieved the impressive figure of 28,000 pins on Pinterest for a photo of one of the brand's shakes.
International Delight also encouraged users to participate by uploading and publicizing their own photos on social networks where they showed different recipes created by themselves and where they used their products.
Are you interested in launching a campaign with Influencers?
To launch an Influencers campaign in Spain or Latin America, an efficient solution is Coobis (a service that has more than 5000 influencers of all categories/themes).  To request information about this service, contact your "influencers and content marketing" consulting team here.